The verdict is in--Julie's muscle and skin biopsies along with her clinical presentation are all consistent with Bethlem Myopathy. The amazing thing is that the first time we saw the neuro in Feb. 2001, he suggested that she might have Bethlem Myopathy. Talk about clinical judgement!

In the same week, I got a call from Dr. B who studied Julie's skin biopsy and Dr. T, the specialist who was helping us get a second opinion. Dr. B said that Julie's skin biopsy showed a collagen VI deficiency which is consistent with Bethlem Myopathy. He said that he and Julie's neurologist would be reviewing the results along with re-reading her muscle biopsy to make certain that the whole "picture" hangs together, but that it seemed fairly certain that Julie has Bethlem Myopathy. He went on to say that hers is a mild case and that we would discuss the implications at her appointment in June.

Then, I got a call from Dr. T who had a report from her friend in the UK who looked over Julie's muscle biopsy slides and electron microscope pictures. The report agreed that Julie's muscle biopsy and clinical picture were consistent with the Bethlem Myopathy diagnosis. I was very relieved to hear that the report agreed with our local doctors because I was afraid that they would differ and then what would we do?

So we saw the neuro in the middle of June and we were told that Julie's case of Bethlem Myopathy appears to be quite mild and that he anticipates that she will do well as she grows up. It is likely that Julie's dad and paternal grandfather also have Bethlem since it has been found to be genetically dominant. We agreed to have Julie participate in a genetic study, so they drew some blood to check for one of the genes that have been found for Bethlem. This may take a year or longer, so I'm not holding my breath to hear about what they find.

I do think that Julie's "case" seems a bit more involved than her dad's based on what little we know about him as a child. Julie is doing very well and making nice progress in her motor skills, but she is still more fatiguable than other children her age. To make certain that her nighttime breathing is not a factor in her daytime fatigue, we have a sleep study scheduled in September. Should be fun!

So there we are. I am pleased with our decision to pursue a diagnosis for Julie and I am also happy with the outcome. I mean, I don't want anything to be wrong with her, obviously, but since there is I am glad to know what it is and something about what it will mean in the future. There is a certain amount of peace with knowing what we are dealing with and I am hoping that a firm diagnosis will be helpful in advocating for Julie with regard to the school and so forth in the future.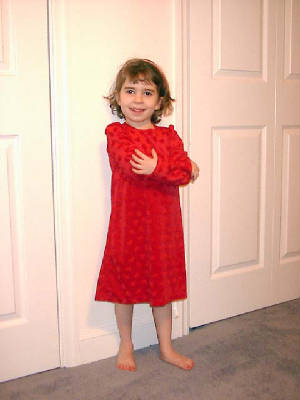 Julie at 4.7 in her new Valentine's Day dress!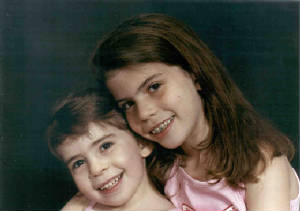 Julie and her sister Robin, May 2003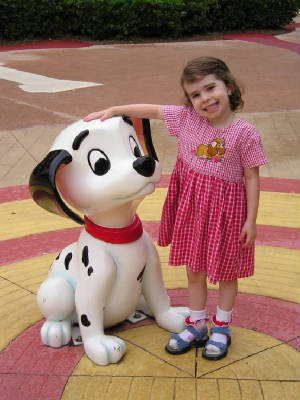 Julie and her pal Lucky Puppy at the All Star Movies Resort in Disney World, June 2003
Julie and Robin and their new puppy, Kiwi, a minature poodle puppy! End of June, 2003