When there is a lot of walking to do, Julie loved to use her adaptive stroller and recently decided she would prefer a wheelchair so she can wheel herself. She named her regular Graco stroller "Strollie" when she was two and we have been calling her stroller "Strollie" ever since! At age four, Julie's legs were dragging on the ground in the Graco so with the help of the PT at the neuro we got a Convaid Metro through insurance. What a difference! The center of gravity is higher, making it much easier to push. We used the Metro for three years until Julie became so tall that she had to slump to have her head supported.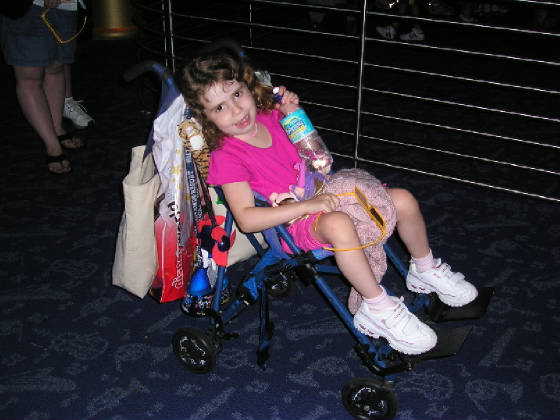 Julie at Disney World in Strollie where it was a lifesaver!
Days before Julie turned seven, her new adaptive stroller finally arrived. We requested it in January at the neuro and it arrived at the end of June! It is a Convaid Scout and we love it. Julie named it "Rachel" thanks to her friend Max who names her strollers and other equipment. Rachel is purple, has all-terrain wheels, a headrest extension for when Julie gets taller, and a sunshade that detaches. Julie is riding in style!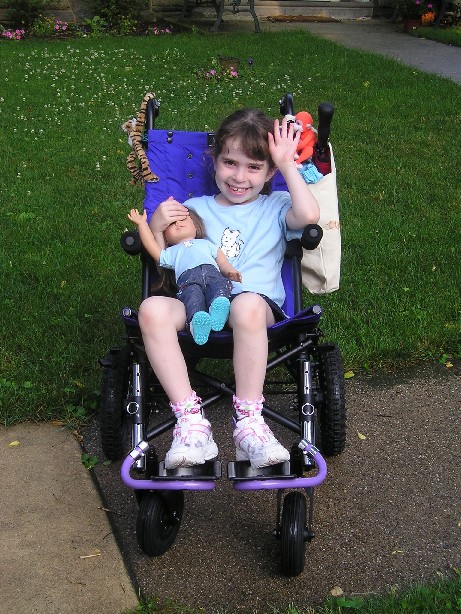 Julie in Rachel holding her doll Christine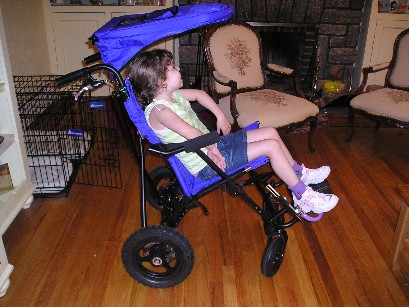 Rachel from the side with the sunshade.
Julie's friend Max was kind enough to send us her adaptive jogging stroller that she can no longer use for Julie to use at camp this summer. Max named the jogger Daisy and Julie has gladly kept the name! Daisy was very helpful at day camp which is on a private school campus. She saved Julie's energy on long walks to activities so she could enjoy herself more at camp!